---
Welcome! To the homepage of MOTOR CYCLES DEN
MOTOR CYCLES DEN is advocating AUTHENTIC BIKER'S STYLE
It is the custom shop of the chopper speciality of Japan We are waiting for the contacts from all the persons that are concerned in the custom such as one of the custom shop, chopper builder in the world in MOTOR CYCLES DEN.
As for an opinion/impression, please send a message from mail or Notice-board!!!

Warning!!!!!: The copyright and also right of portrait such as the image inside this homepage
To MOTOR CYCLES DEN
Because we are reverting we prohibit the use, reproduction in without notice.
Please have fun slowly then.
---
One who hopes a link contacts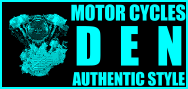 Bannar uses this