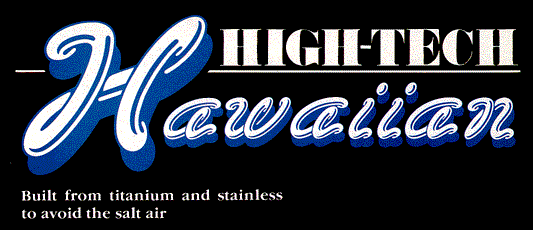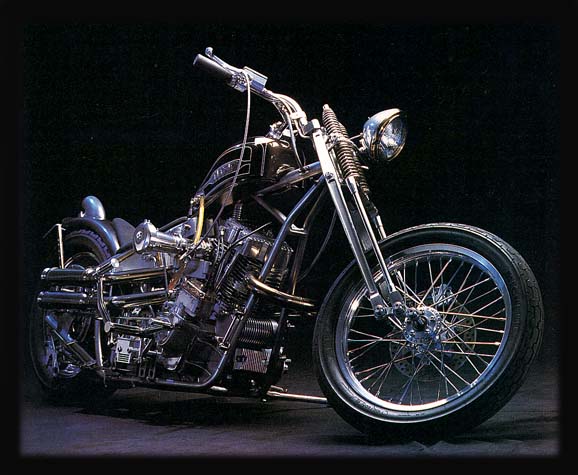 How do you get interested in something that doesn't exist where you live? Where its legacy to your family,friends,and countrymen is one of death and destruction? How do you put this behind you and boil it down to the basic bottom line feeling of enjoyment? Yukio Sato ,from the land of the red ball,aJapanese nationalist with American sensibilities,now calls Honolulu,Hawaii,home.When he was growing up in Tokyo,thirtysomething years ago,he was bitten in a roundabout way by the Harley bug.It first sank its teeth into him when he caught a glimpse of an old replica Harley called the Rikuo(One was featured in ER#118,April,1983.)The puttin'venom was in his blood.At fifteen years of age,young Yukio was gettin'into tearin'down,rebuildin'and modifyin'street,motocross,and cafe racers that he come into con-tact with. He liked the feel of wrenches and grease,of taking things apart and putting them back together again.Of applying his brain power towards making the bikes work and look better.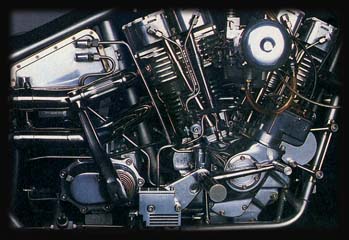 Better for Yukio meant the creative bikes he was seeng the U.S.military guys riding around on.It was the dawn of choppers in Japan.A whole new culture of individuality was finding its way into the ancient land of tradition.It was a revera-tion:you didn't have be the some,or look the some,or ride the same.His interest kept growing,as did his talents.And in his toolbox,he now had more standard than metric tools.While being gainfully employed as an architect and illustrator,he decided to sell his first Harley-his favorite bike-in order to get a plane ticket to L.A.He had to see the chopper lifestyle that consumed his thinking.His immediate impression of Harleys here was,"They're alive,not robots."Sato studied English,went back home,and began seriously building bikes,learning through trail and error.It wasn't long before he got a reputation as a thorough builder,with exacting standards.Then the low came down ,and the lead-ers of the Land of the Rising Sun dictated that bikes could not differ from factory designs when build in Japan.In other works,custmizing took it in the shorts.They could,however,be imported,and that's about when Yukio Sato picked up stakes and headed west-to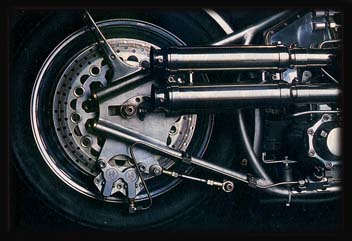 Hawaii,where he resides and works today.The Titan is but one of his many fine-art Harley accomplishments.Yukio is an innovator who build what inspires him.Using pracicality as his guide.Like not wasting time on chrome-plated steel that will just rust in the salty ocean air,instead employing components made of titanium,aluminum,and stainless steel which are more rust-resistant.He's a stickler for details,figuring just because you can't see it doesn't mean it shouldn't be perfect.He takes this approach to all his projects,including the recent completion and restra-tion of a 1934VL.Yukio is a high-tech artist who is into American motorcycle coulture.He builds three or four major project sleds a year,entering then show on the Island as well as on the Mainland,like the Oakland,California,Roadster Show.He'd like to help in bridging the gap between the Far East and America-one of his ideas is the introduction of bike drag-racing in Japan.Go for it.
-Knucklehead Kned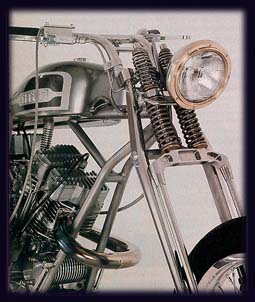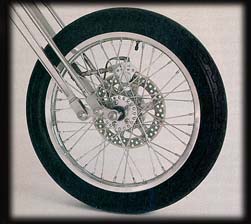 Owner:Yukio Sato
City:Honolulu Hawaii
General
Frame
fabrication by:owner
Year:1987
Year and make:1987 H-D
Builder:owner
Model:Titan
Type:Titan rijid
Value:pliceless
Rake:40 degress
Assembly by:owner
Stretch:4-inches
Time:four years
Other alterations:sandblasted w/glass bead
Chroming by:none
Accessories
Engine
Bars:stainless steel
Year:1987
Risers:one-piece
Model:Titan
Fender(s):rear/fiberglass
Rebuilder:owner
Headlight:spun aluminum/brass rim
Ignition:Morris magneto
Taillight:Spart
Displacement:94 cubic inches
Speed:none
Lower end:S&S
Electrics:12-volt,concealed wires
Cases:Bonneville
Gass tank:Hand-beaten aluminum
Heads:Motorcycle Den
Oil tank:computer-machined aluminum
Cam:450 Sitton
Oil system:owner;stainless steel
Lifters:solids(Sifton)
Primary cover:owner;aluminum
Carb(s):S&S Super D
Seat:carved from high-density form
Air cleaner:owner
Sissybar:fender brackets
Pipes:stainless steel
Height:n/a
Muffler(s):titanium
Material:n/a
Transmission
Folks
Modifications:none
Type:springer
Year:1979
Extention:3-inches
Shifting:foot
Builder:owner
Ebgine sprocket:Primo belt drive
Special feaures:stainless steel
Trans sprocket:22-tooth
Wheels
Wheel sprocket:51-tooth
Front
Rear
Painting
Size:19-inch
Size:16-inch
Molding:none
Hub:Perf.Mach.
Hub:Perf.Mach.
Painter:owner
Rim width:3inches
Rim width:5inches
Color:silver-gray
Tire:Michelin
Tire:Michelin
Type:lacquer
Brake:P.M.disc
Brake:P.M.disc
Special paint:all of it
 
 
Other special modifications:Lots,look.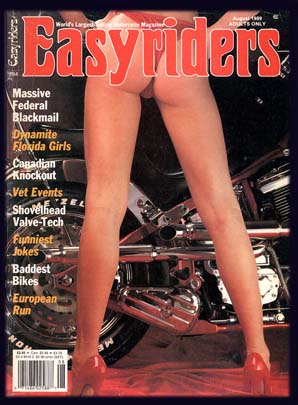 from Easyriders magazine:August 1989